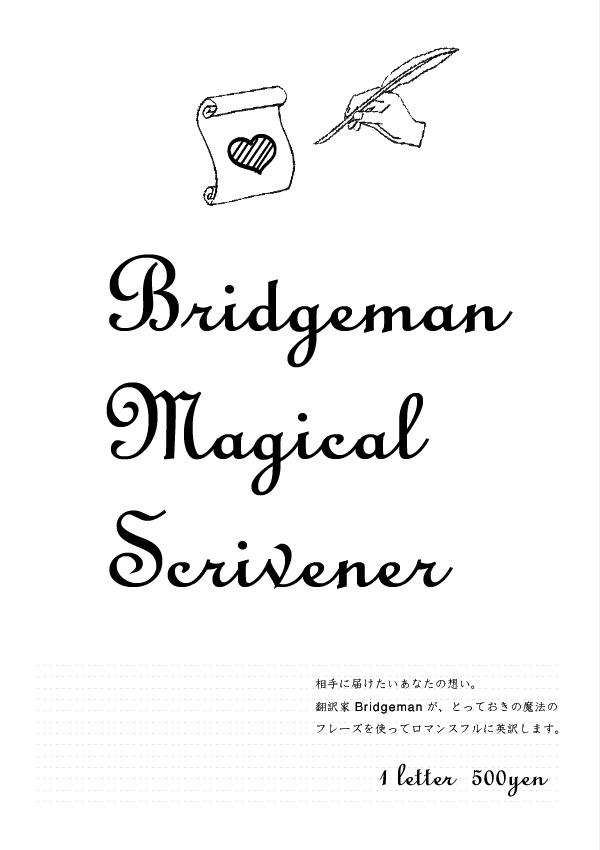 昨日、『魔法の代筆屋』が無事に(?)終了しました。
周りの方の助けとタイプライターの物珍しさで1週間を乗り切ったのはまず間違いなく、出展中は地中のいも虫が突然、地上の明るいところに連れてこられたかのようにもじもじうろうろしてましたが、これまで話したことのないたくさんの方々とお話ができ、『テンペスト・マルシェ』の一員として参加できたことに、とても感謝してます。
最終日の昨日は、柳宗悦著『工藝の道』の一小節、その場で書いていただいた詩、未来の子どもへの手紙(こちらは翻訳ではないですが・・・)という、素敵な仕事のご依頼もいただき、また翻訳が好きになりました。皆さま、ありがとうございました。
※イベント当日の看板(上の写真):イラストレーションは『山鳩舎』のちかさん、デザイン(+イーゼル)は『古道具 燕』の北谷さん
---
"The Magical Scrivener" finished successfully (?) yesterday.
There is no doubt that I could manage to hang on for 1 week thanks to the help from the people around and uniqueness of the typewriter, and I was awkwardly wandering around like a caterpillar suddenly dug out of the ground to the sunlit surface, being restless during the period. Yet, I am so thankful that I could have an opportunity to talk with many first-meeting people and be part of the "Tempest Marché" stuff.
Yesterday, the last day of the event, I also received lovely requests to translate some lines from "Kougei no Michi" written by Muneyoshi Yanagi, an extempore verse and, though this is precisely not a translation, a letter to a baby to be born in days to come, all of which made me fall for translation even more. A million thanks to everyone.
*the signboard displayed during the event (the above photo): illustrated by Chika-san (Yamabatosha), and designed by (and the easel burrowed from) Kitaya-san (Kodogu Tsubakuro)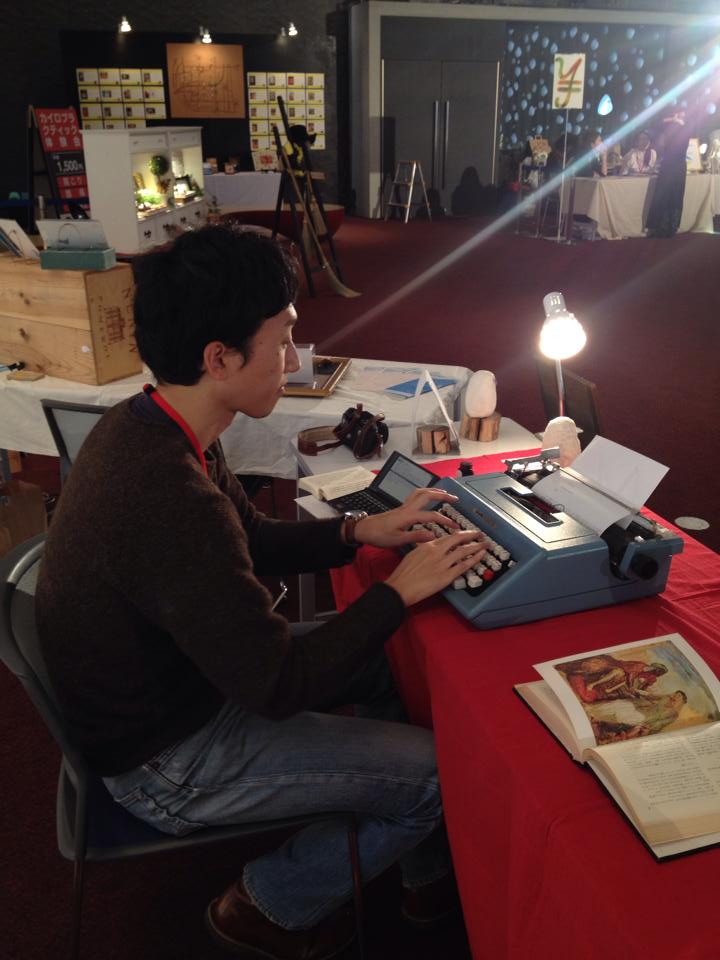 写真:『陶房七草』の古田さん、『フランソワーズ石鹸工房』の小笠原さん
---
Photos: Furuta-san (Tobo Nanakusa) and Ogasawara-san (Françoise Sekken Kobo)